Intelligent Dispatch Software For Logistics Operations
– The global dispatch software market is set to reach $3.5 billion by 2030 [1].
– It's forecasted that the market will grow at a CAGR of 9.2% during the period 2021-2030 [1].
In today's world, speed and efficiency are two key features that lead to success in the logistics industry. Logistics operations are becoming more complex and demanding due to globalization and the rise in eCommerce. To help businesses meet their logistics demands, intelligent dispatch software will be handy for hassle-free operations. Today's dispatch software comes with AI and ML integrated to offer the best routing and real-time data analytics. In this blog, we have discussed how dispatch software for trucking is helping the trucking industry. And the key features that are making it the best tool for companies focusing on the logistics industry.
Dispatch Software for Trucking:
Dispatch software will help stability over numerous background operations. It will help allocate drivers to specific vehicles based on skill sets. The dispatch tracking software will contain all the information on goods dispatched, movement, and delivery. They will help monitor the entire operation and offer customers real-time alerts and notifications. The trucking dispatch software will help managers schedule and track their drivers working hours, plan their delivery routes, and track their journeys in real-time to optimize their operations.
Why is Dispatch Software (DS) key for your business's success?
By 2023, one should have realized the need to have robust dispatch software to help meet customer demands. Besides the rising fuel costs, delivery costs, on-demand deliveries, labor costs, and demand surges, there are a number of complexities that DS can fix.

Let's look into the key features that DS can offer-
– Automate your business operations: An automated last mile delivery software solution is the dream for any business. A system that uses machine learning and artificial intelligence to get routes scheduled and planned to get deliveries done sustainably is the key. DS can weigh in multiple factors like traffic, weather conditions, fleet type, driver availability, toll, etc to find the best routes to get deliveries completed hassle-free.
– Offers customization: A dispatch software should be able to customize what is crucial for the business based on their SLAs. Some of the most common customization for order deliveries should be based on the fleet type, fleet size, type of shipment, type of delivery (on-demand or scheduled delivery), driver skill sets, order returns, proof of delivery, etc.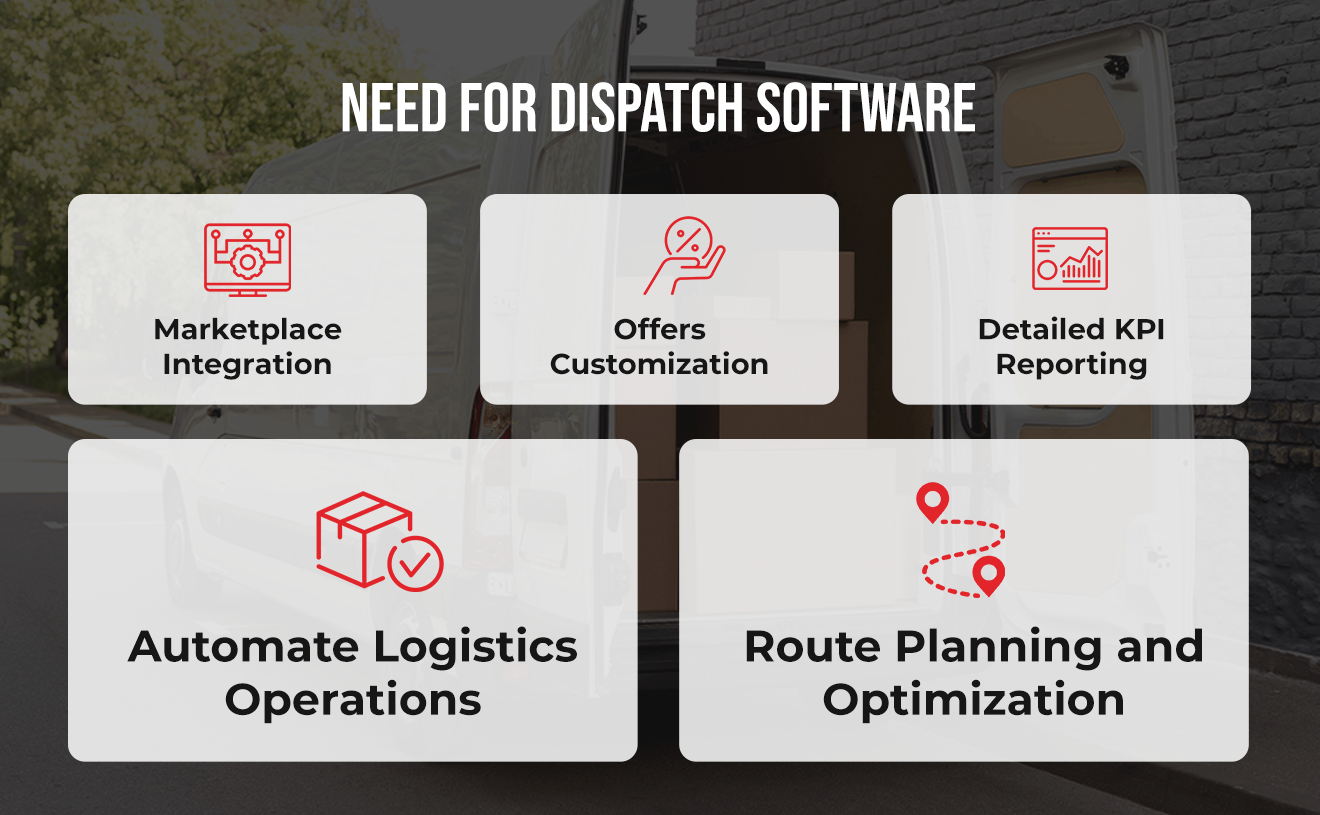 – Route Planning and Optimization: A DS that offers last mile delivery solutions should use dynamic

route planning

and optimization. This will help get the deliveries completed within the described time. Orders can be planned based on drivers' proximity to the location, and batching of multiple orders going to the same location to reduce multiple trips and improve fleet efficiency.
– Marketplace integration: A DS should be able to integrate with multiple resources to improve logistics efficiency. Some of the most

commonly used integrations

include- ERP, TMS, OMS, Payments, Carriers, etc.
– Plan for FTL and LTL: Create easy plans to dispatch Full Truck Load (FTL) and Less Than Truckload (LTL) orders within minutes. Paperwork and custom notifications can be sent to each customer based on their load types and ETA for their order arrivals.
– Driver Payments: Each driver's payments can be easily calculated and drivers can be easily made payments for their entire trip duration. Reimbursable fuel-ups, earnings, bonuses, and other expenses will be directly added to avoid payout mixups.
– Detailed reporting: Last, but most important purpose for using DS is to be able to offer complete data on deliveries. Operation managers should be easily able to analyze data and achieve their KPIs to ensure success.
Conclusion
A modern business that is into deliveries should make use of dispatch software to help them with last mile deliveries. Tracker software will help give real-time tracking information integrated with dispatch software to offer customers the best delivery experience. LogiNext offers the best dispatch software to help businesses meet their logistics needs. We operate in 50+ countries and our service is used by 200+ clients globally. So why wait any longer to get a last mile delivery solution for your business? Connect with an expert by clicking the red button below.
52