The Ultimate Guide to Logistics Management Software: Everything You Need to Know
As oxygen is key to our living, logistics management software is a must for modern logistics and supply chain operations. The best logistics management solution will ensure proper planning for the distribution of goods and services right from the first mile to the last mile of operations. Logistics operations can become complex without any visibility of day-to-day activities. Hence a logistics manager should focus on upgrading their logistics operations using the best logistics planning software. This will result in enhanced customer experience, reduced operational costs, and improved sustainability for deliveries.
What is logistics management?
As the term suggests, logistics management is the functionality that will help the organization plan, manage, optimize, and implement its logistics operations. It includes activities such as inventory management, warehousing, transportation management, order management, carrier management, and fleet management. Logistics management software will help integrate with other functions like marketing, sales, finance, and information technology.
What are the different types of logistics management?
The types of logistics management can be divided into four categories based on the direction of goods and services to be transported and who is responsible for getting the delivery completed.
Inbound logistics-
Inbound logistics plays an important role in logistics management as it handles incoming transportation and storage of raw materials and components to manufacture the final product. They mainly deal with first mile delivery. Failure to acquire these materials will eventually lead to delayed deliveries and unhappy customers.
Outbound logistics-
Outbound logistics mainly deals with last mile delivery. The finished goods should now be delivered to distribution centers, warehouses, retail stores, or directly to the consumer.
3PL logistics-
When a business/ store/ retail chain does not have its own carriers (delivery drivers), then comes the use of a third-party logistics provider (3PL). Using 3PL is ideal for those focusing on improving their manufacturing and sales and leaving the complex last mile deliveries to a reliable 3PL provider.
Reverse logistics-
Reverse logistics is the process of order returns, wherein customers return the ordered items due to defects, damage during delivery, or item not meeting their expectations. This process involves the transportation of finished goods from the end consumer to the seller/ manufacturer.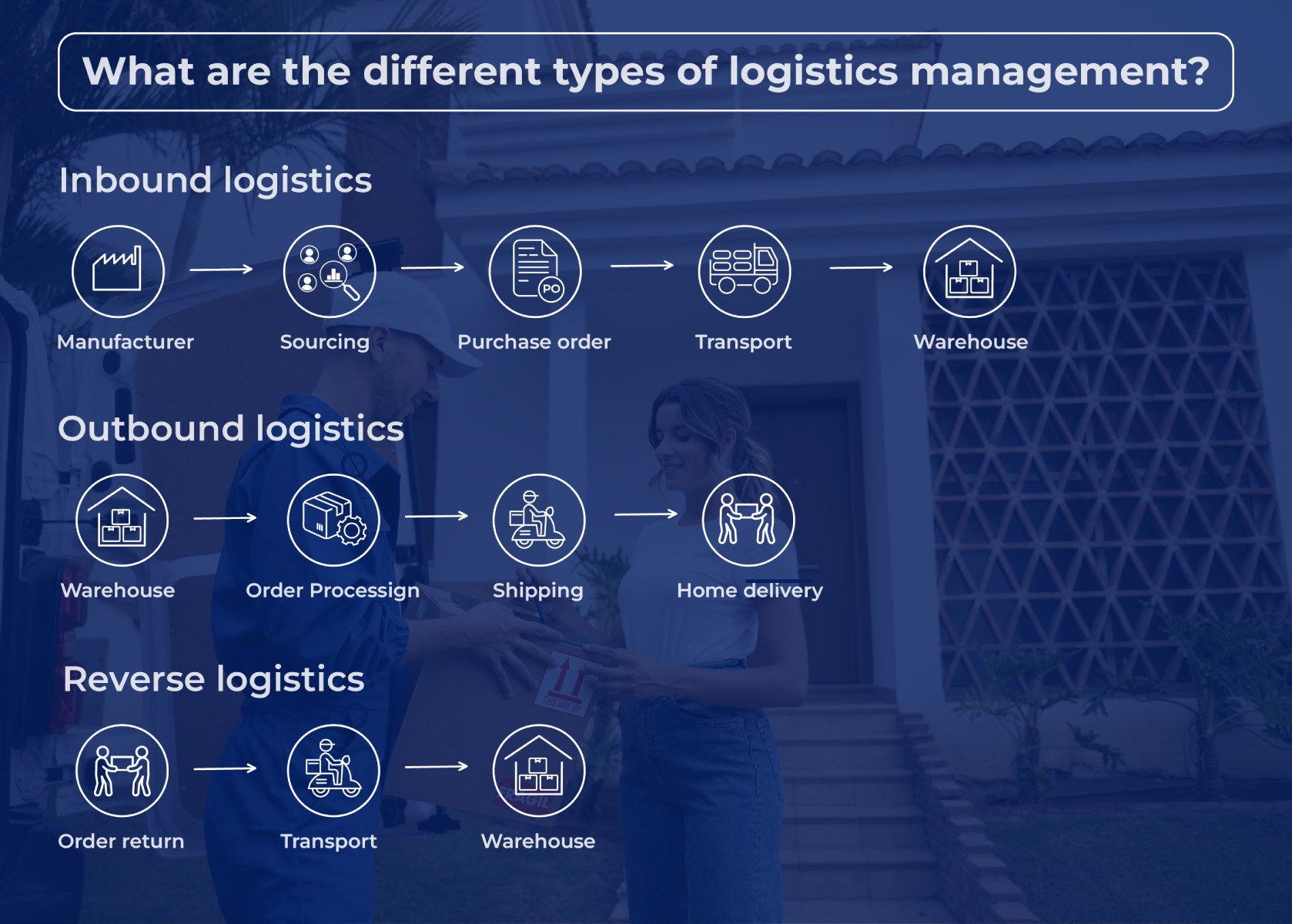 What is logistics management software?
Software for logistics management assists organizations in managing the numerous operations involved in the manufacturing cycle, from supplying raw materials to transporting finished goods to customers. It helps get rid of conventional approaches like paperwork and spreadsheets to simplify operations.
Key considerations when choosing software for logistics management
To keep up with the growing demand for improved customer experience, logistics management software is a must. Whether your fleet utilizes bikes, vans, or trucks, every movement will be tracked and custom reports will be generated. Before finalizing your logistics planning software, ensure these features are available to ensure hassle-free logistics operations.
Will it help improve fleet efficiency?
The best logistics management software should be able to guarantee improved fleet efficiency. While improving fleet efficiency, the automation platform should be able to lower freight costs without compromising the quality of service. The logistics management solution should find optimal routes and assign delivery associated based on their skill sets.
Can the logistics management software guarantee on-time delivery?
Modern deliveries demand on-time delivery. The package delivery should not only be on time but also ensure they are in perfect condition on delivery. Logistics planning software should guarantee timely delivery without any order returns.
Does it support flexible payment methods?
The main advantage of using SaaS-based logistics management software is the ability to have monthly, quarterly, or yearly payment plans. This will help businesses find the best plans that meet their logistics requirements. The logistics solution should be designed robustly to store shipping documents, driver details, licenses, sales invoices, etc.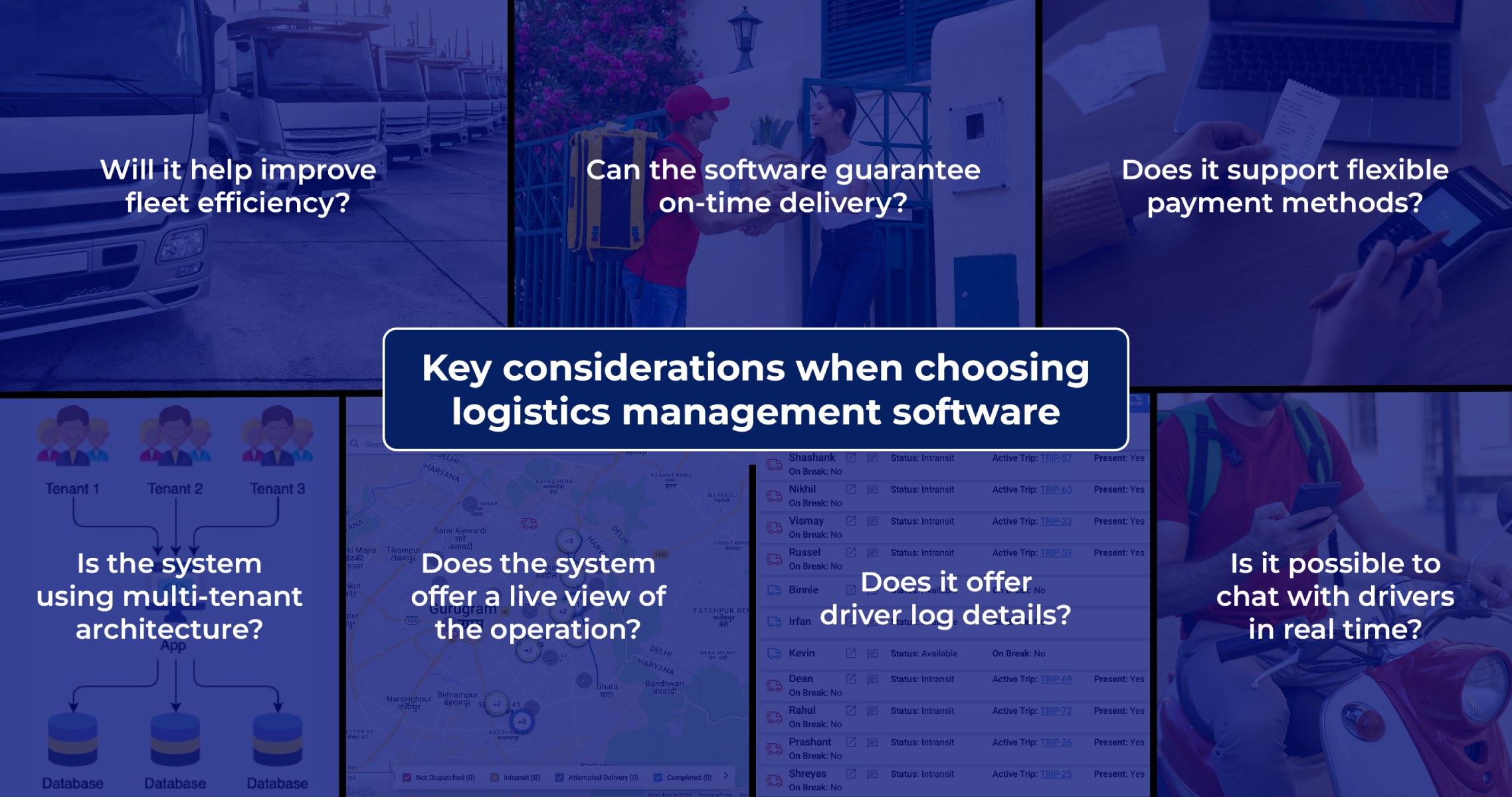 Is the logistics management system using multi-tenant architecture?
A logistics management software that runs on a multi-tenant architecture will ensure smooth syncing of all your business operations. It prevents any particular activity from impacting the performance of ongoing operations. This results in lower upfront expenses, and maintenance costs. It also offers benefits like easy scalability and better privacy.
Does the logistics management system offer a live view of the operation?
A full-screen view of your live operations will give operations managers the best view of on-ground activities. Right from viewability of the drivers that have been assigned trips, to the number of assigned and unassigned orders, map view of deliveries, etc. The live view of operations will help improve customer experience.
Does it offer driver log details?
Logistics management systems should be able to offer insights into driver delivery details. The solution should showcase the hours of operations, the number of deliveries handled, the distance covered for delivery, the number of timely deliveries, customer feedback on delivery, etc. Having complete knowledge of this will ensure your drivers are not overburdened and ensure they follow the best practices to get the delivery completed on schedule.
Is it possible to chat with drivers in real time with logistics management solutions?
A driver chat feature should be allowed using the driver app. Alerts and notifications should be sent to drivers in case of any emergency. The drivers should also have the ability to chat with customers regarding deliveries. This will ensure complete transparency for deliveries and customer satisfaction with their delivery.
Some other features that should be checked to enhance logistics and supply chain operations include- Transportation Management Solutions, Fleet Management, Warehousing, Inventory Management, Order Fulfillment, Demand Forecasting, Route Planning and Optimization, Integration Marketplace, and Regulatory Compliance.
Tips to note before buying an effective logistics management solution
Before jumping to any conclusion over the need to buy the best logistics planning software, here are a few expert tips that will help you with buying your purchase-
Fix your logistics goals that you need to achieve:
The key to your success will depend on the ability to deliver goods as per customers' expectations. Define goals that you want to achieve using logistics management software. Planning for every aspect of your logistics and supply chain management will help increase revenue, fleet efficiency, and customer retention.
Have a contingency plan in place:
In this unpredictable line of business, there is never a foolproof plan. Businesses should be tasked to handle unforeseen circumstances to avoid complete failure of their business operations.
Ensure communication from top management to operations:
When purchasing logistics planning software, there should be complete transparency. The top management should make decisions based on the feedback from accounts and operations managers. This way, business owners will be able to make the right decisions and comply with compliance.
Keep the focus on customer requirements:
As eCommerce sees a boom, having software that focuses on customer requirements is of utmost importance. Having a robust platform that will ensure improved revenue generation and influence others with word-of-mouth reviews. Real-time communication with the customers is the key to decoding your last mile delivery operations.
Use analytics to improve delivery strategies:
The move to a digital platform will help businesses get real-time data and historical insights on business operations.  An effective logistics management solution will ensure maximum network optimization to ensure deliveries are completed on time and within defined delivery rates. Operations managers can gain insights into how and where they can focus their efforts to improve operations.
How can logistics management software increase profitability?
Here are some of the best ways logistics management solutions can transform your logistics operations-
Help with redefining logistics operations:
The logistics industry is one of the most volatile industries. Whether it be due to fuel costs, delivery driver shortages, shipping charges, or even tolls, the cost of logistics delivery keeps fluctuating. This can become an increasing challenge for operations managers to handle operations manually. Hence the use of logistics management software will be crucial to streamline logistics operations.
Ensure faster delivery:
Any delays in the delivery strategy can cause a ripple effect on the entire operation. A logistics management solution will be the key to streamlining logistics operations. The use of a logistics automation system will help businesses remove unnecessary delays and get orders assigned faster to get the delivery completed on time and with maximum customer satisfaction. 
Reduce human errors:
In a fast-paced logistics industry, getting the operations manager to handle all delivery-related tasks is bound to cause errors. Choosing the best logistics management software will ensure easy handling of large amounts of data in a short span that offers error-free results.
Automating logistics operations:
A fully automated logistics management solution will offer help with route planning, route optimization, crate optimization, fleet optimization, inventory management, etc. This helps remove dependence on manual assignments and routing, thus improving overall logistics efficiency.
Improves customer experience:
Getting customers' orders delivered on time and in the right conditions is the key to retaining customers. It helps improve brand reputation, improve NPS, and help acquire new customers. Logistics management solutions are meant to improve logistics efficiency and gain an edge over competitors.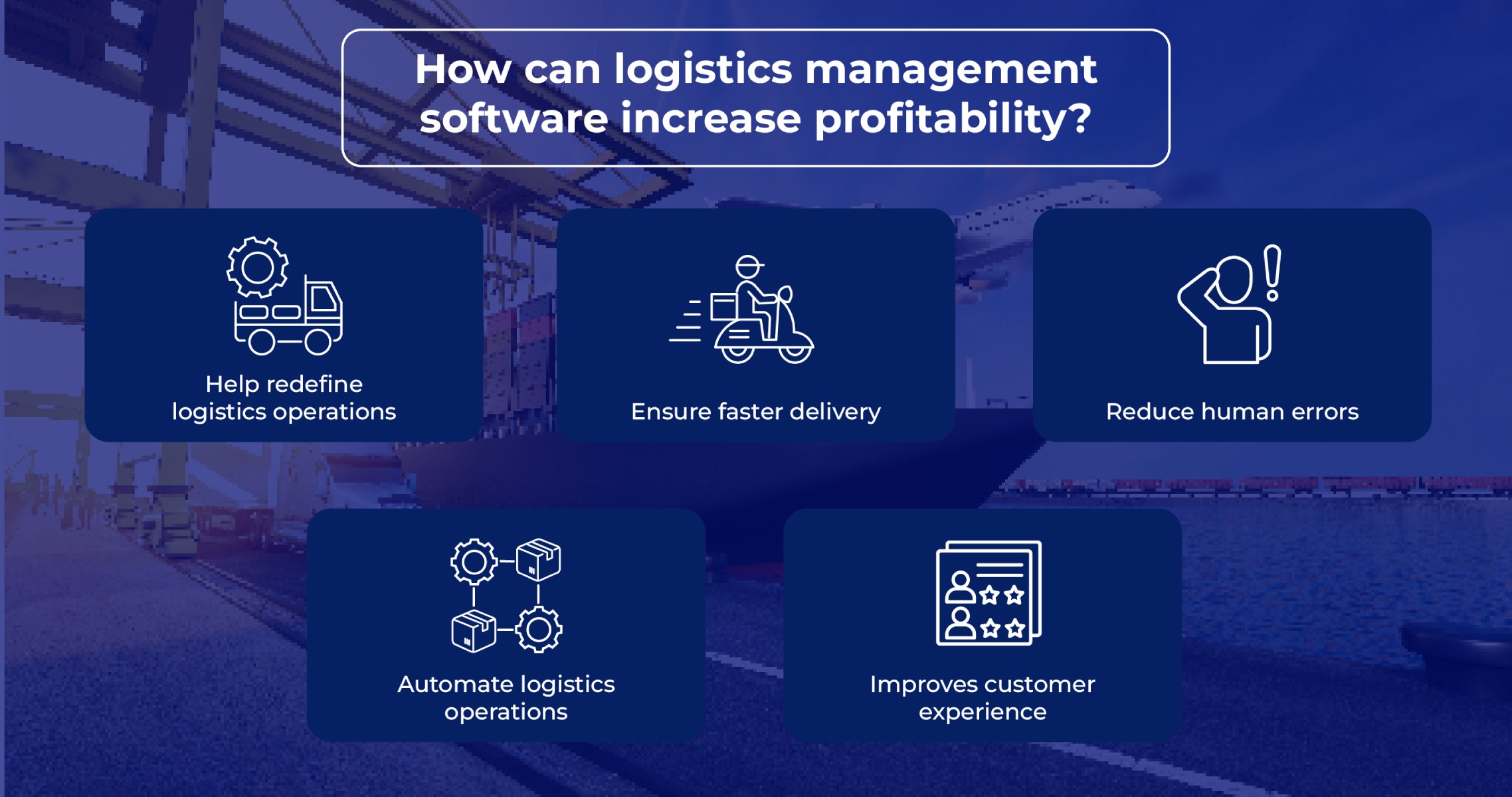 What is a logistics management information system (LMIS) in supply chain management?
– A logistics management information system is a digital program that helps in decision-making and operations management like procurement, storage, order picking, and the shipment and transportation of goods.
– The main help with logistics management is to do away with manual data entry and order allocation. This minimizes the risk of errors in inventory control and order fulfillment. 
– It also helps obtain logistics activity in real-time which will improve logistics planning and optimization of routes.
– Some of the most commonly used places for LMIS operations include- Warehouse Management Systems (WMS), Transportation Management Systems (TMS), Order Management Systems (OMS), Inventory Management Systems (IMS), and Enterprise Resource Planning (ERP).
How can logistics management software help streamline supply chain operations?
There has been an increasing number of companies moving toward adaptation of digital tools. 76% of enterprises have already embraced digital solutions to seek visibility and agility for their supply chain operations. Here are some ways logistics management solutions help streamline supply chain operations-
– Real-time visibility and tracking
– Route optimization and transportation management
– Inventory management and warehouse optimization
– Order management and fulfillment
– Analytics and Reporting
What Logistics Software Does Amazon Use?
Amazon used to rely heavily on third-party logistics carriers to ensure hassle-free deliveries. However as customer demands for same-day and next-day deliveries rose, it introduced Amazon logistics in 2018. Amazon's logistics software was called Amazon Flex. It offers the carriers the capability to respond to orders received from Amazon.com, Prime Now, Amazon Fresh, and Store Orders.
Read More: What Logistics Software Does Amazon Use?
Logistics management software solution helps bring multiple moving parts of the supply chain together to ensure a seamless flow with end-to-end visibility. With a thorough understanding of logistics management, logistics operations managers can find the best logistics management software.
Top Trends in Logistics Management Software
– Automation and Robotics
– Artificial Intelligence (AI) and Machine Learning (ML)
– Augmented Reality (AR) and Virtual Reality (VR)
– Autonomous Vehicles and Drones
– Digital Twins
– Supply Chain Agility
– Demand Forecasting
– API-based Integrations
Which software is best for logistics management?
If you are in the market looking for Saas-based logistics management software, LogiNext Mile is your one-stop solution. Our logistics management solution can be configured with any ERP, WMS, TMS, OMS, Payments, Maps, etc., to streamline logistics operations. It's time to save on logistics operations costs, enhance fleet efficiency, and improve customer experience by calling our experts for a demo.
65
5