Best Logistics Management Software: Key Features To Consider
Logistics efficiency and supply chain visibility are the two key pain points that businesses need to account for to have a competitive advantage. As customer demand rises, retailers are struggling to meet delivery demands. Hence the search for the best logistics management software is on the rise, states this research report. Businesses are tightening their last-mile deliveries to improve supply chain operations. 
Logistics management systems have evolved over the years. It's no longer just about getting the goods delivered, but a process that ensures complete supply chain visibility. Improving logistics efficiency is another factor considered by businesses to find the best logistics management software solutions. 
Streamlining logistics operations is the dream for most supply chain managers. One of the main dilemmas facing businesses is whether to build the software in-house or find the best logistics management software in the market. In this blog, we shall focus on the key features a logistics or supply chain manager should consider to find the perfect solution.
Wishlist: Ideal Features In The Best Logistics Management Software-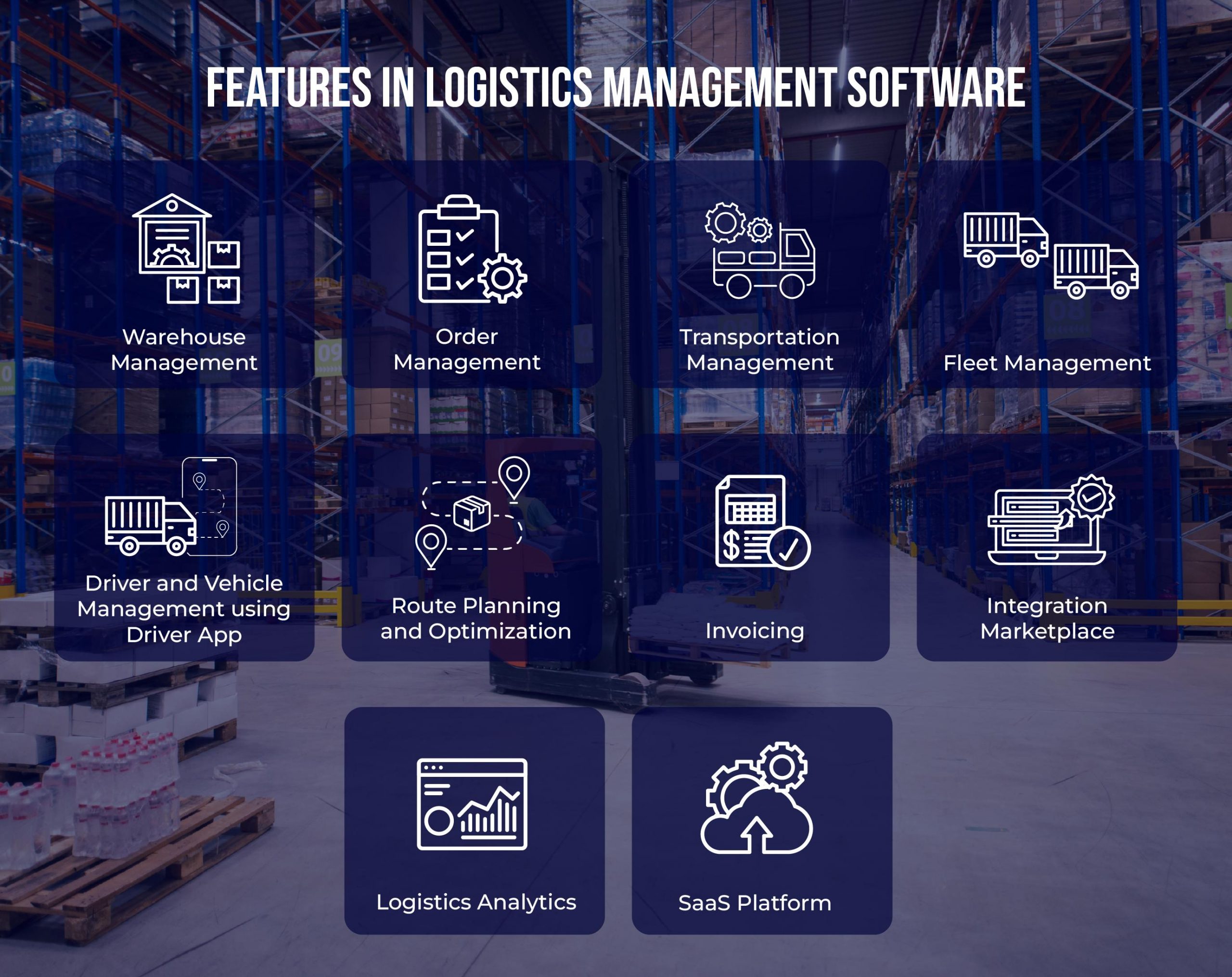 Let's start with the heart of delivery operations- The warehouse. Whether it be for long haul deliveries or on-demand deliveries (Dark Stores), warehouse management will help with timely deliveries of goods.
Warehouse management software will help with visibility inside the warehouse (moment of goods inside and outside). This will give the operational team visibility of the storage and what items need to be reordered/ or stop further purchases until the stock is complete. 
The business will benefit from unwanted spending and avoid stock-out options, especially during peak demand season. It will also help warehouse managers keep track of supply details, removing any chance of manual errors in storing stock data.
Order Management:

An order management system will be a boon to businesses to automate their order fulfillment. The best logistics management software will help plan for orders and assignments of drivers without manual intervention. 

 

Whether it be data upload via manual process, via APIs, or excel sheets, once the order is entered into the database, the order management system will ensure order fulfillment and can take care of order returns as well. 

 

This will help stores to correctly assign orders to drivers based on their skill sets and optimize routes to ensure deliveries are completed on time using delivery route optimization software.

Transportation Management:

A transport management software will help the business manager deliver from first-mile and last-mile deliveries. The control tower functionality offered by a TMS helps with real-time delivery tracking, alerts and notifications, driver assignment, custom report generation, and more.

 

 

A TMS will help improve supply chain visibility and improve logistics efficiency. Supply chain managers get help with the execution and optimization of deliveries at cost-effective rates. This helps in maximum resource utilization and ensures fleet compliance is met. 

Fleet Management:

The best logistics management solution will help provide solutions that meet maximum fleet utilization. Whether using its own fleet or third-party carriers, fleet management software will be crucial in route planning and optimization. 

 

Supply chain managers can ensure a good delivery experience and customer loyalty using fleet management software. This further enhances logistics efficiency and supply chain visibility.

Driver and Vehicle Management using Driver App:

A driver app is crucial to keep track of driver activities and vehicle management. The use of GPS and other hardware is beneficial to track vehicle and fleet operations. 

 

 

Logistics management software can help with giving detail of driver driving behavior, fuel consumption, trip completed, distance covered, etc. It can additionally store driver information like licenses, skillsets, and more for easier driver allocation.

Route Planning and Optimization:

The importance of this feature cannot be more stressed. Route planning and route optimization is the key to ensuring timely deliveries and ensure maximum customer satisfaction. The best logistics management software will make use of AI and ML to find the best routes to get orders delivered on time. It helps with better ETA estimation and reduces delivery times by 15- 20%. 

Invoicing:

Delivery Management Software that can generate an automatic invoice for every delivery is crucial in this modern day and age. Whether it be capturing data via scanners or camera devices, automated invoicing will remove manual errors, and improve billing and accounting quality. The use of ePod and eSigns in logistics management systems has helped reduce order returns in most retail stores.

 

Integration Marketplace:

Even the best logistics management software can come up with requirements that it can fall short of offering. However, an integration marketplace feature will help regain lost ground.

 

Most logistics management systems offer seamless integration with ERP, CRM, OMS, WMS, TMS, email integrations, carrier integrations, and more. A software solution that can easily integrate with existing logistics management systems will hold key to enhancing customer experience. 

Logistics Analytics:

A data analytics tool that can offer insight into all logistics operations will be crucial to enhance logistics efficiency. Analyzing data in real-time as well as historical data can help businesses scale and optimize their logistics operations. It also helps the operations team to download excel sheets and present data to C-level executives for annual or quarterly performance reviews.

 

SaaS Platform:

Scalable logistics management systems are the need for the hour. A cloud-based logistics management software will help with easier scaling as the company grows. It can also meet the compliance and demands of modern logistics. A SaaS platform additionally provides long-term investment strategy, and security benefits and adapts to more order requirements. 

 

The best logistics management software can help remove time constraints, and ensure best practices are followed for fleet operations. It also helps with easier integration, reduces maintenance costs, and offers flexibility for future growth. LogiNext helps businesses with the fulfillment of deliveries across sectors- Retail and eCommerce, F&B, CEP, CPG, Transportation, etc. Click on the red button below to get help with growth in logistics operations, improving logistics efficiency, and having supply chain visibility.

 

 
54
1