Earth Day: Focus on Sustainable Logistics Management Solutions
Logistics isn't a word that's often talked about but it has an impact on our daily lives – even if we don't realize it. Be it airplanes, trains, ships, bikes, or trucks, each plays a crucial role in the logistics ecosystem to help with supply chain delivery. Each of the vehicles requires a logistics management manager to give directions to ensure hassle-free deliveries.
While home deliveries have become more prominent, especially with globalization, and the rise in eCommerce, one of the major concerns is carbon emissions. The consumer goods industry logs close to 80% of GHG emissions in the supply chain [1]. Around 2 billion people are expected to become a part of global consumption by 2025, which is approximately a 75% increase from 2010!
So what measures are companies undertaking to meet customers' demands while ensuring reduced carbon emissions? This Earth Day, we at LogiNext are reflecting on how we are affecting the Earth by offering its world-class logistic management software.
We believe that offering dependable logistics management software is one of the most efficient ways we can help our clients reach their sustainability goals. Our software enables businesses to manage their supply chain operations, reducing fuel wastage, optimizing routes, and lowering emissions in the process.
Here are a few examples of how logistics management software can help with green logistics:
Optimize Routes: Logistics management software can assist businesses in optimizing their shipping routes, reducing the amount of fuel used to deliver goods. As a result, emissions are reduced, and the carbon footprint of the shipper is reduced.
Reduce Waste: The best logistics management solutions can assist businesses in tracking inventory levels and shipping volumes, lowering the danger of overproduction or overordering. This helps to reduce warehouse waste and save money.
Improve Efficiency: By optimizing supply chain activities, logistics management software can assist businesses in increasing their overall efficiency. This implies that businesses can get items to market sooner, reducing the need for last-minute shipment and lowering emissions.
Monitor Environmental Impact: Our logistics management software can assist businesses in tracking real-time traffic, allowing them to make better decisions regarding their supply chain operations.
Enable Sustainable Practices: Businesses can promote sustainable practices such as the use of eco-friendly packaging materials and the selection of more environmentally friendly routing solutions. This can reduce the total environmental impact of logistics by making it easier for enterprises to adopt these practices.
Check out: LogiNext's sustainability calculator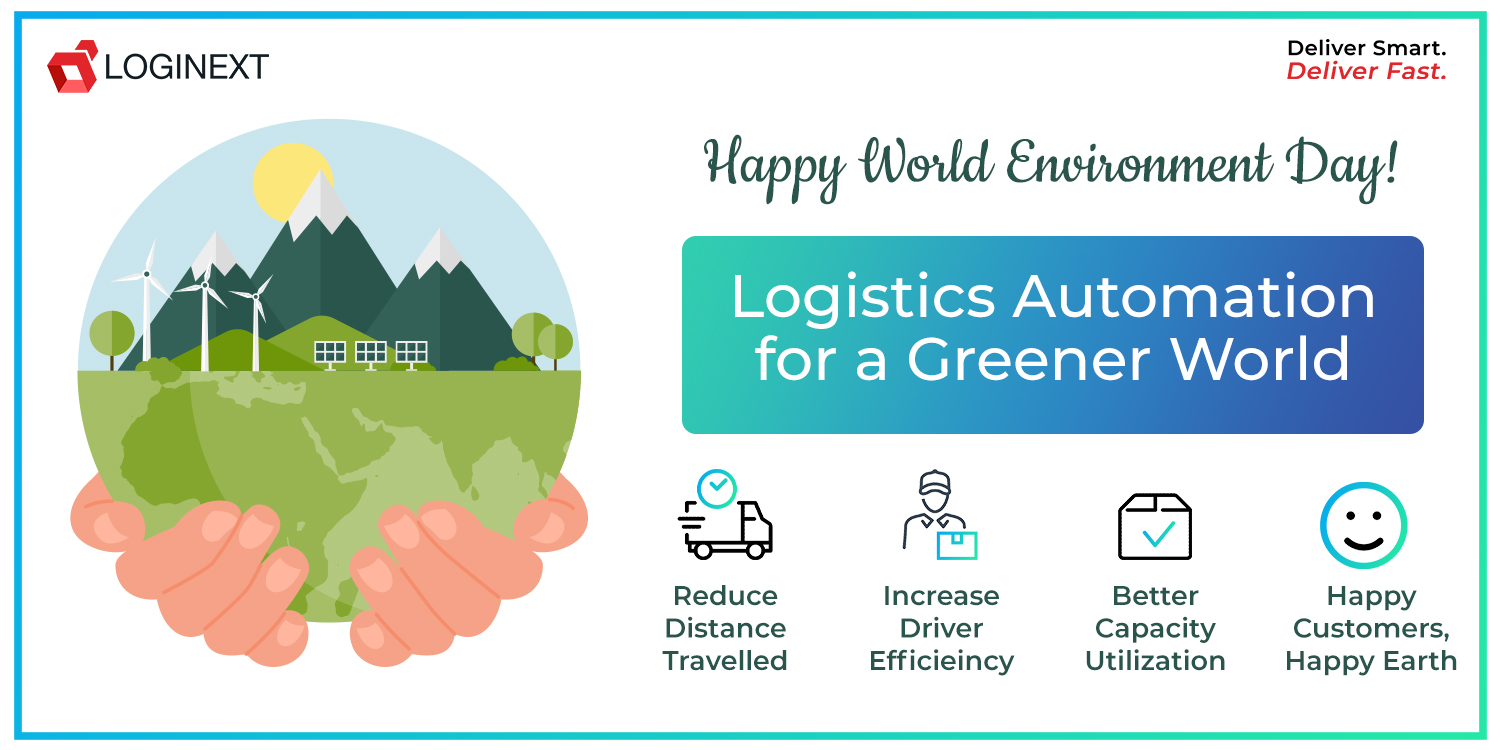 LogiNext is dedicated to assisting its clients in achieving their environmental objectives. We can help enable green logistics and lower the total environmental effect of logistics by providing dependable logistics management software. 
With over 7 years of experience in the industry, we offer our solutions mainly catering to but not limited to Retail and eCommerce, Consumer Packaged Goods (CPG), Courier, Express and Parcel (CEP), Food and Beverage (F&B), and Transportation. 
Let us all resolve to find ways to safeguard the world and lessen our carbon impact this Earth Day. Speak to an expert to meet your sustainability targets by clicking the red button below.
37