A Retailers Guide to Home Delivering Large Furniture and Appliances

In this modern digital age, convenience is available at a consumer's beck and call. Within a few clicks, a wide variety of products can be home delivered the next day or in some cases, in a matter of minutes! Quick commerce has hastened delivery cycles and brands have had to adjust quickly to the new reality.
While quick commerce is mostly relevant for food and grocery delivery, the expectation is percolating towards big & bulky goods as well. Furniture, refrigerators, washing machines, cars and all kinds of big & bulky products are being ordered online and there are a multitude of factors that a retailer has to consider to make this work. In this post, we'll take the example of ordering a refrigerator from Walmart and Home Depot while sitting in Manhattan.
A couple of years ago, the primary focus of a customer would be on the price and reviews. But increasingly, over time, the panel at the bottom which gives shipping details has become equally important. If a product can be delivered in 2 days or is available for pickup from a store close by, it has a much higher probability of being purchased as compared to the product which has a delivery time of 3+ days.
But giving this visibility and communicating precise ETAs is a complicated task. Here are some of the questions a logistics software has to track in order to give precise visibility:
– Map the warehouses in terms of distance from customer

– Fetch details of all the carriers available for delivery on the particular days

– Pick the best carrier according to retailers business goals

– Have a map of delivery service types offered by carriers and shippers

– Account for holiday calendar of the warehouse and transporters while estimating ETA

– Have rules in place for assigning technicians in case of white glove deliveries (premium deliveries)

– Real time delivery communication through alerts and notification to the end customer (tracking URLs)
This gives you a sense of the considerations that go in the background while you're picking your favorite refrigerator. As a retailer, selling on your own website or on a marketplace, adapting to the change is inevitable. How do you pick the right strategy and offer this flexibility to the end customer? (Download Whitepaper: A Guide to Excel in the Big&Bulky Delivery Landscape)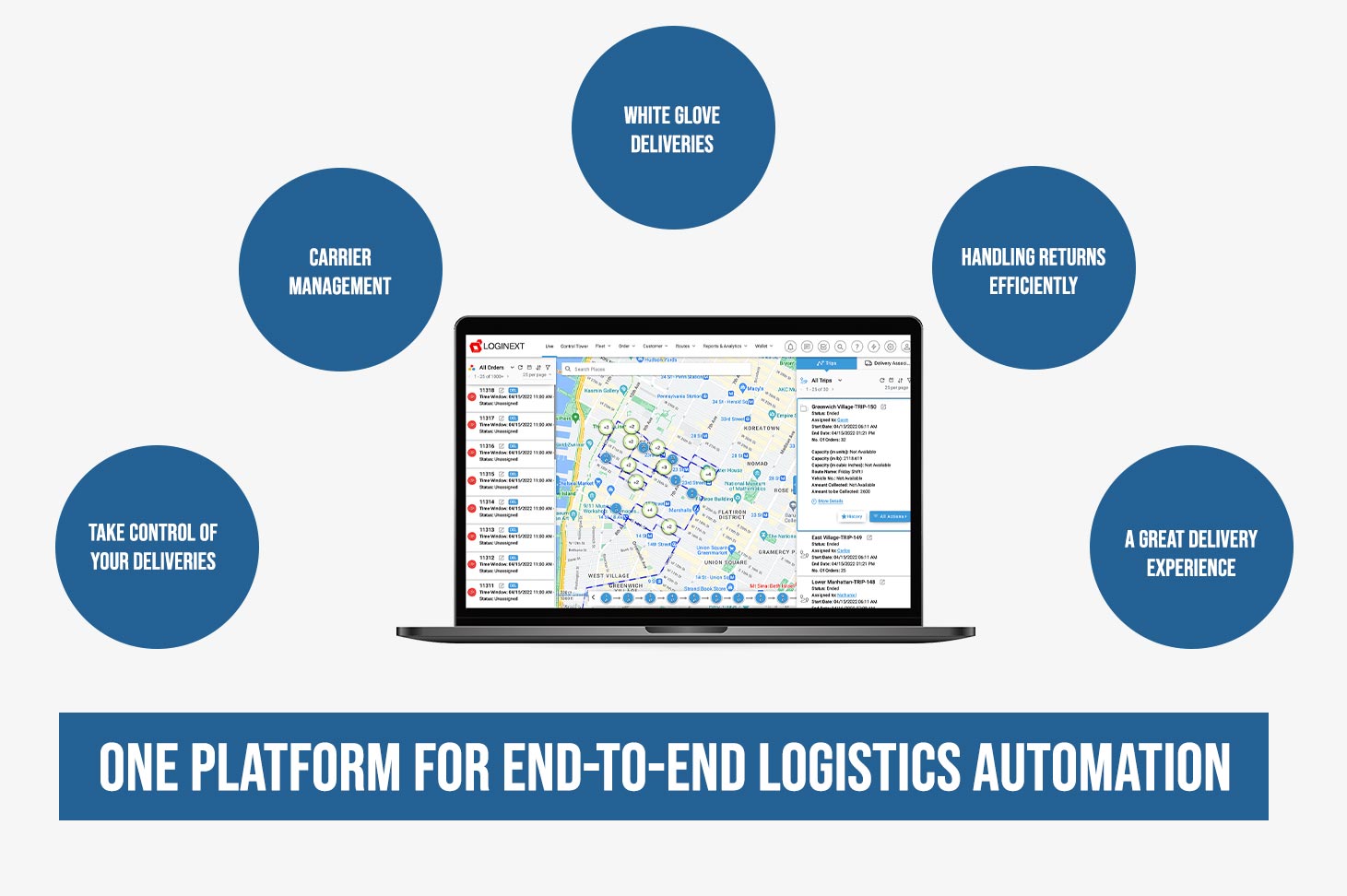 Take Control of Your Deliveries
While being present on marketplaces is inevitable, over time, it is critical to have your own systems in place. A logistics management software like LogiNext allows you to take control of your deliveries. Right from taking orders on a single platform, managing carriers and drivers (be it in house or 3rd party) to delivering a great end customer experience, a single platform can take care of all your delivery needs.
Carrier Management
There are multiple carriers and each of them have their own speciality. A comprehensive platform lets you handle carrier management and picking carriers efficiently at the click of a button through API integrations. What this means is that on a single dashboard, you can see all the carriers available and add or remove more through a toggle key. When an order is being assigned to a driver or a predictive ETA is being shown to the end customer, the algorithm accounts for all the rate charts of carriers and picks accordingly.
White Glove Deliveries
In case of big & bulky goods, enabling new service types like white glove deliveries is becoming increasingly important. White Glove Delivery is a premium service wherein the delivery associate and/or technician installs the appliance along with delivering it. There is a premium charged for such a service but is essential in case of furniture being assembled or an electronic appliance being installed. The logistics platform in this case serves like a Field Workforce management platform since two or more delivery drivers/technicians might be needed on the premises at the same time.
Handling Returns Efficiently
No retailer likes returns but it is also something retailers can't do away with. Buying decisions are often dependent on the returns policy for a product. In order to reduce returns, it is critical to deliver right in the first attempt and this is where real time visibility of a delivery management software comes in handy. Even after having these systems in place, there will be returns due to several reasons and this is why it is critical for the same delivery management system to be able to handle exceptions like product returns.
A Great Delivery Experience
In the entire delivery lifecycle, the key is to ensure a sleek experience for everyone- shippers, delivery drivers and the end customer. Through an easy to use and gamified driver app, delivery driver management becomes simpler and delivery efficiency increases. Via contextual alerts & notifications along with customized order tracking links, the end customer gets ETAs in real time and remains in the know at all times.
One Platform for end-to-end Logistics Automation
Customer expectations have skyrocketed but the good news is that there are SaaS platforms that have been built for retailers to satisfy all these demands. An end-to-end logistics automation tool helps retailers bring all the above elements of order management, carrier management, real time visibility, finance modules along with in-depth analytics together. Implementing such a solution is easy and most progressive brands have already implemented such solutions but there is a vast majority that is in the evaluation phase. Digital transformation is an imminent reality and on top priority for fast moving retailers.
46