Importance of Last Mile Delivery Software in the Logistics Industry
As the competition rises and on-demand delivery adds more pressure to already burdened logistics and supply chain businesses, the need to adapt to the latest technology solutions has become the norm. Companies can no longer rely on slower delivery times, nor get away without offering real-time delivery notifications. Customers need a fast, reliable, and efficient delivery service to meet their demands. This is where a last mile delivery software solution would play a crucial role in getting the orders delivered with both- customers and the operations team being notified of each delivery.
What is last mile delivery tracking?
Last mile delivery tracking ensures that customer packages are tracked in real-time right from the moment the delivery driver leaves the warehouse, distribution center, or store until they reach the customer's door.
Having visibility over last mile delivery is essential for efficient delivery operations. Last mile delivery tracking software not only helps with informing customers about their parcels in real-time, but it improves the buyer's journey of getting orders delivered to their doorstep.
A last mile delivery tracking software will help improve real time tracking that will ensure enhanced customer experience and return customers. Consumers now need real-time information on the map, driver communication features and additional features like feedback to rate their delivery experience.
The use of last mile delivery software helps businesses understand driver behavior and ensure proper routes are followed to get delivery made on time. This makes last mile tracking extremely crucial for businesses seeking to provide a top customer experience.

What are the challenges in last mile delivery routing?
A last mile delivery software solution should be able to handle the following challenges to ensure seamless deliveries.
The use of unoptimized routes- The message is clear, poor route planning leads to delayed deliveries. Since the driver routes are not optimized to reach the destination within the specified time, this leads to unhappy customers. Sometimes, businesses have to face losses as orders are returned or the customer gets the order for free for extreme delays. A software solution that can help with last mile delivery tracking and routing will be crucial for businesses, especially in the F&B and grocery delivery sectors.
Manual assignment of orders- Even after the rise in technology use for last mile deliveries, some stores are yet to implement an automation platform. The store manager has to manually assign trips for every order received. Imagine the chaos during peak order time! This can cause improper assignment of delivery drivers, leading to delayed deliveries. A last mile delivery software can help with auto assignment of orders which will then select drivers based on their skill sets and closeness to the store to assign orders to ensure efficient routing for last mile delivery.
No visibility over delivery drivers- Once the driver leaves the store, the store manager has no visibility over the driver's location and order status until the driver reaches back to the store. A last mile delivery software will offer live order tracking status that pinpoints driver locations, observes the routes taken by the driver for delivery and even customers get real-time visibility of the orders. More stores are now tending towards the use of custom delivery software to help improve delivery visibility for the last mile.
Outdated delivery infrastructure- While some businesses have switched to technology to ensure smoother last mile delivery, their infrastructure might not be up-to-date to meet rising consumer demands. The use of a SaaS-based last mile delivery tracking software will keep the store updated with the latest delivery trends. The need to purchase extra licenses during peak seasons can be easily controlled when switching to a SaaS platform. With enhanced security, and the ability to adapt to customer demands for scalable operational needs, businesses should look for last mile delivery software to get their orders delivered with maximum customer satisfaction.
How do I optimize my last mile delivery?
The last mile delivery operations are the main challenges to meeting constant consumer demand, driver shortage, and economic conditions. Streamlining and better managing the delivery process will offer a competitive advantage and ensure better revenue generation. Here we have listed below some of the best ways you can optimize your last mile delivery operations-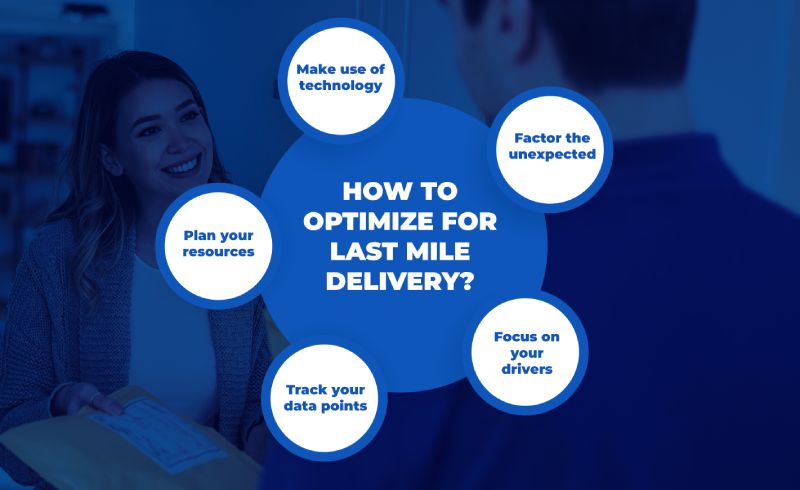 Have a proper plan- The last mile delivery operations have changed over recent years. It's not just about getting the goods delivered, but getting them delivered without any damage and at the earliest possible. Ask yourself, What can be done to improve the delivery experience? What are your competitors doing for last mile delivery? Will using a reliable last mile delivery solution ensure hassle-free delivery?

 

Technology comes to your aid- Today's market is filled with multiple solutions to fulfill last mile deliveries. It helps improve the customer experience while generating incremental revenue and reducing delivery costs.

 

Use of data points- Last mile delivery solutions can give you valuable insights related to business operations. It will offer you detailed information about any cracks in delivery operations and find the best solution to overcome delivery challenges.

 

Focus on drivers- Drivers are your key performers for last mile delivery operations. Once the routes are planned and optimized, the best drivers will ensure the same delivery routes are followed to ensure on-time delivery. The combination of tracking and alerting will help drivers become more efficient with deliveries. Using a driver app will ensure drivers follow delivery routes and communicate driver location with real-time ETA changes for maximum customer satisfaction.

 

Factor the unexpected- Whether it be bad weather, traffic jams, or a surge in orders, having real-time visibility of orders will help meet any exceptions. Order visibility will help managers schedule order demands accordingly update customers in case of delays and even offer rescheduled delivery options.
How does last mile delivery software improve overall supply chain operations?
In today's market, order visibility is everything that would provide customers with maximum customer experience. Here's how last mile delivery software solution offers improved performance for the supply chain.
Driver time tracking: Drivers play a crucial role in last mile delivery and it's important to have the vehicles tracked to ensure efficient fleet operation. The use of a driver app would be essential in solving this problem. The driver can log his in-time and out-time using the driver app and also add his break time, vehicle breakdown reporting, etc. This will avoid disruptions and boost efficiency across your logistics operations.
Warehouse tracking software: Warehouse tracking or inventory tracking has come a long way to offer a seamless operation. Tracking of supplies is crucial to avoid last mile delivery hurdles, especially during peak order time or festive seasons. An ERP integration can be helpful to get the required information for tracking inventory supplies.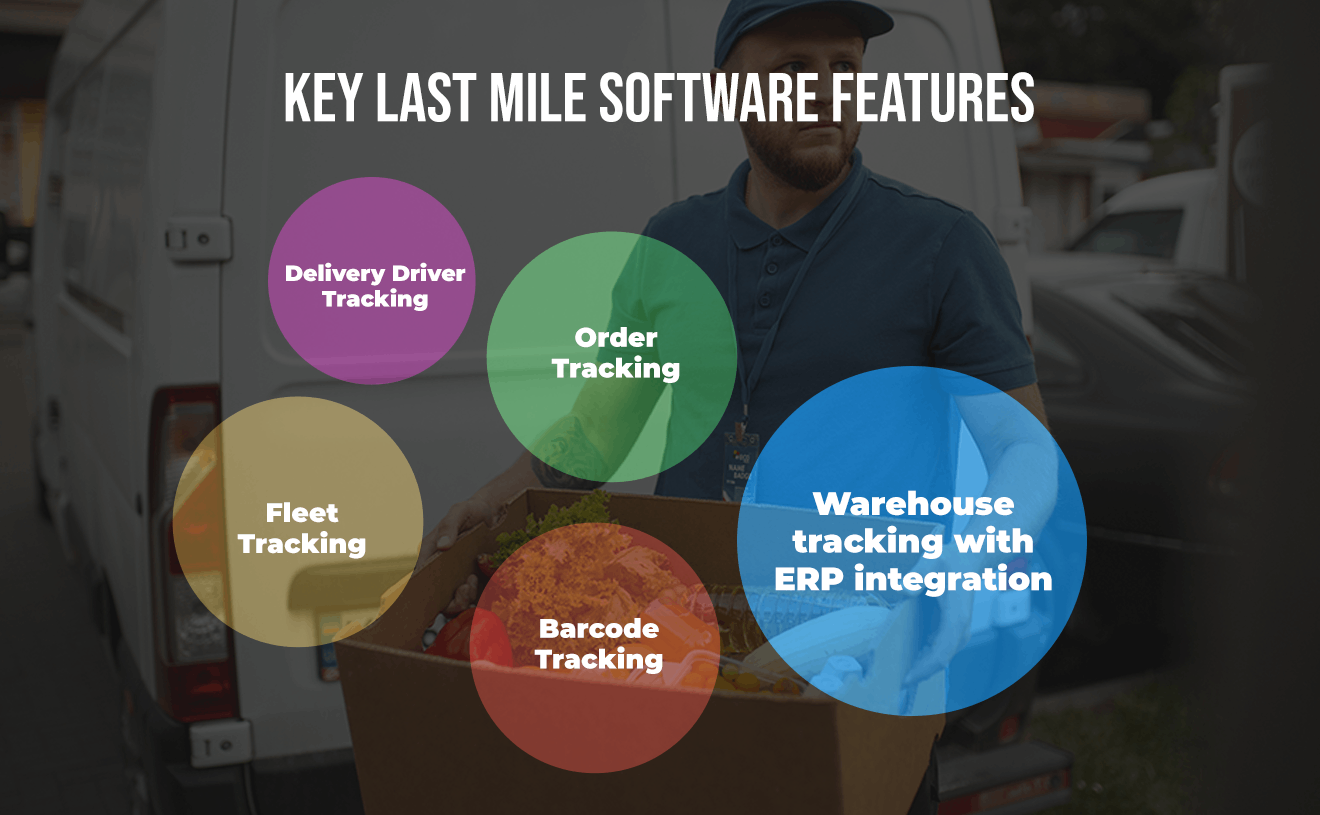 Fleet tracking software: Fleet tracking software would be beneficial to improve fleet efficiency and driver safety. This will help improve the number of deliveries completed per order, leading to an increased number of deliveries per day. Operations managers would also be able to track the driving behavior of the driver. Real-time tracking will help cut down the risks the driver has to take during deliveries and also help identify unsafe driving behavior.
Order tracking software: The modern customer wants details of every step of his order delivery to be tracked and informed. A last mile delivery software should be able to keep track of the stages of an order, right from placement of the order, getting it ready to be shipped, offering an ETA of delivery, and getting the live-tracking information of the order being delivered. Additionally, proof of delivery is also collected once delivery is completed which ends the order delivery process.
Barcode tracker software: Businesses can use the scan-in and scan-out features to get deliveries completed faster. The scan-in and scan-out are usually done at the warehouse of shipment areas and also at places where delivery is to be made. This helps with faster checkouts and saves time, especially when handling multi-order deliveries.
What is the key component for effective last mile delivery?
The last mile is the most important part of the delivery process because it directly affects end customers and is a constant bottleneck for logistics managers. To make a well-informed decision logistics managers should look into these key features to make the last mile delivery more efficient.
Real-time tracking: Ensuring your delivery process is completely transparent is key in today's last mile delivery requirements. As customers get real-time visibility of their delivery, they tend to trust the brand more. Besides customers, logistics managers get updates related to drivers' locations, which helps improve operational efficiency. This will steeply reduce the question that the customer has- "Where's my order?" as live updates are constantly being fed to the customer.
Smart Dispatch: The use of AI and ML has resulted in orders getting dispatched smarter. As last mile delivery software can auto-assign drivers based on their delivery locations, skillets, and more, logistics managers no longer have to fret about assigning orders to their delivery drivers. Assigning orders, whether for scheduled or on-demand deliveries, last mile delivery management software will come to your aid.
Optimized route: Route planning and optimization are key factors of last mile delivery management software. This helps reduce the travel distance and find the optimum routes to get orders delivered. This feature additionally helps drivers update their delivery routes in case of traffic or changes in weather conditions.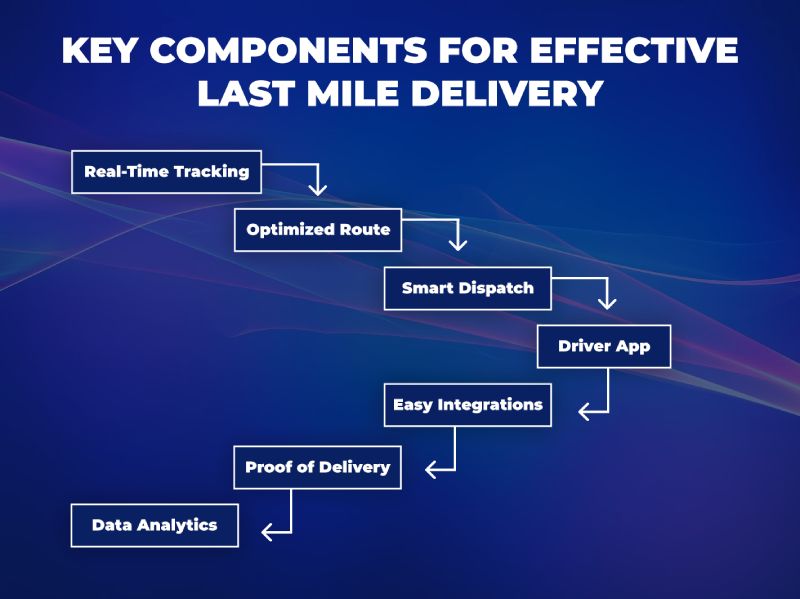 Driver App: A driver app is not only beneficial to offering real-time updates and tracking, but it also helps drivers ensure smooth last mile delivery operations. Your team won't need additional tracking GPS (hardware) to be connected to give live location status. Drivers can log in and log out, assign orders to nearby drivers (in case of vehicle breakdown), collect delivery proof, and more.
Easy Integrations: Integration is the key to ensuring seamless delivery operations. Whether it be a connection with a TMS, ERP, WMS, OMS, Payments, and more, the last mile delivery management software will help reduce the burden of getting all the applications handled by one application. 
Proof of Delivery: Proof of delivery or electronic proof of delivery (ePoD) plays an important role in closing the delivery leg. Once the item is delivered, proof can be collected in the form or photo, sign, or even secure OTP (one-time password), which helps companies prove that the item has been delivered to the right address. 
Data Analytics: At the end of the day, analytics plays a vital role in ensuring your business is heading in the right direction with regard to last mile delivery. The last mile delivery management software can help with analytics of the number of orders delivered, on-time delivery, delayed delivery, driver performance, driver incentives and payouts, fleet performance, and more. This bird's eye view offers the logistics managers a proactive approach to enhance last mile delivery operations.
Benefits of last mile delivery management solution:
Most enterprises now turn to last mile delivery management software to enhance their operations. This software is highly useful in keeping track of deliveries, and customers updated about their orders. Drivers and delivery associates can ensure hassle-free delivery with real-time tracking and communication to ensure timely delivery. Some of the key benefits of a last mile delivery management system include-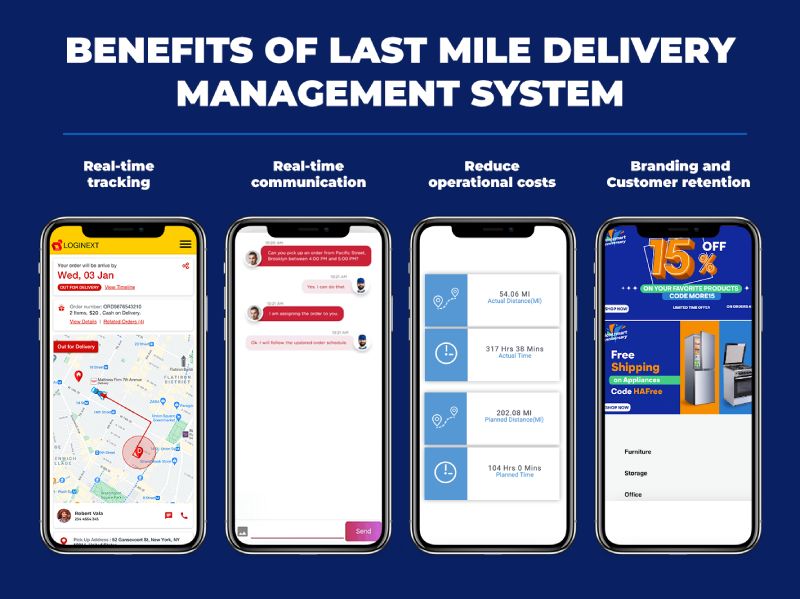 Real-time tracking: As mentioned above, having a fully integrated and automated last mile delivery management system will offer real-time tracking updates, automate order assignments, ensure the best routes are chosen for delivery, and finally track payments and delivery proof on successful completion of delivery.
Real-time communication: Last mile delivery management software can collect data and learn user behavior to streamline delivery operations. It will determine the best driver for delivery for a particular order type and also take corrective measures to keep everyone related to that order delivery informed of any changes or delays in delivery.
Brand recall and customer retention: The best way for businesses to increase revenue is to have a brand recall. Advanced last mile delivery software can help keep customers engaged with discounts and coupons for the next order(s). As customers keep engaging with the platform, you can be assured to get customers to return to place orders.
Reduce operational costs: While it might seem a huge investment to begin operations, last mile delivery management software can reduce manual operations, reducing the need to hire more employees. With auto order allocation, advanced route planning and optimization with real-time updates will help businesses flourish with on-time deliveries. This will help overcome the investments made and your business will start making profits within the next quarter.
Frequently Asked Questions
What are the benefits of using last mile delivery solutions?
Here are some benefits that you can obtain using last mile delivery solutions-
– Streamlined delivery operations
– Automated route planning and optimization
– Real-time delivery tracking
– Better operational visibility
– Increased fleet productivity
Which is the best last-mile delivery management solution?
A company that can help you customize your last mile delivery solution as per your requirements is a perfect choice. Though there are several LogiNext Mile is the best last-mile delivery management solution. You can be assured of seamlessly automating your delivery platform and saving on time, effort, and cost.
What to look out for in last mile delivery management software?
Here are some top factors you should look for when choosing a last mile delivery management software-
– Route planning and optimization
– Easy scalability
– Real-time tracking
– Integration marketplace
– Robust security
– Custom reports and analytics
Try to implement last mile delivery solution in your delivery operations today!
Since more businesses are turning to the digitization of logistics operations, to stay ahead of the game, last mile delivery management software will be key. Your business will reap benefits such as reducing fuel consumption (helping in sustainable deliveries), reducing the distance traveled for deliveries, ensuring on-time delivery, and improving customer experience. Better the customer experience, you can be assured to improve your customer base and improve profits.
At LogiNext, we aim to transform delivery hurdles using advanced last mile delivery management software. With our advanced cloud-based Saas technology and easy-to-configure software solution, you can be assured of reaching your company targets and exceeding expectations. Speak to our last mile experts by clicking the red button below.
72