Top Tech Upgrades of The Year
The technology behind our most celebrated features and applications improved immensely this year. We saw major tech upgrades streamlining operations and distribution for our clients. One iconic development this year has been the exponentially growing set of our data points. We crossed a billion tracking data points (unique latitude and longitude information). To understand the inherent value of this achievement, we must understand the direct correlation between data points and planning efficiency.
Data points are the scalable, and interlinking units of information that hold a unique set of data pertaining to any irreplaceable knowledge set. Data points may also hold fungible or fuzzy data which then point to more unique of irreplaceable information. For example, unique data points might include locational identities such as latitudes and longitudes(lat-long); addresses; directions; etc. Fungible data points (which are also unique and are used in conjunction with the core irreplaceable information as and when required) are traffic and weather information pertaining to a location at a precise moment in time.
A multitude of these fungible data points contributes to creating data or information trends (in correlation with the lat-longs) that become the foundation of machine learning. This means that if your vehicle moves through traffic in the peak evening hours on weekdays, then a machine learning enabled system can then suggest the eventual traffic patterns (and traffic time-frames) you might experience in the future.
Recommended Read: Billion Data Points! LogiNext Reaches a Milestone Untouched by Most in Enterprise Mobility Solutions!
Tracking Booster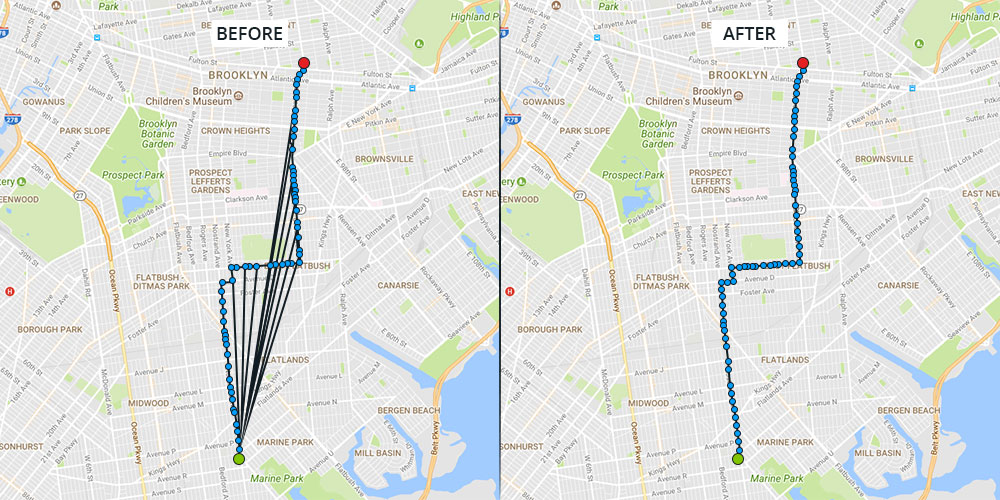 We vastly improved our tracking accuracy by intelligently applying machine learning principles on our tracking data points. Our latest upgrade and the one with far-reaching benefits involves usage of an updated version of a solution previously utilized by NASA. The Kalman Filter. What it does, essentially, is streamlines the tracking information coming into usable and unusable sets. It cleans the data to a high level of accuracy. LogiNext's version of the Kalman Filter learns from each route taken by a vehicle or a field agent and understands patterns of data consistency. It understands whether the data coming in is correct or incorrect. The 'how' of it can be covered in immense detail and would be done in another article.
Sign up to avail better planning and tracking efficiency.
The business value created by this is immense. When accurate tracking information is used as an input for planning and strategy, the resultant analysis is far more contextual that before. It means that if the vehicle's tracking information previously showed random changes, then the analysis might have suggested that the driver was speeding or using excessive braking. Even the total distance covered shown would have been erroneous as the input tracking information wasn't proper.
Input Tracking Information is a factor of the physical tracker used, and like every hardware, it would be prone to errors. However, LogiNext is hardware agnostic and hence can overcome any hardware related errors. Sometimes the error might now even be related to any hardware but may arise simply because the tracker was placed under some merchandise or within a box, hence restricting its network access. LogiNext's tracking upgrade solved all these problems. 
Image Compression! HD Images in 2G Speed!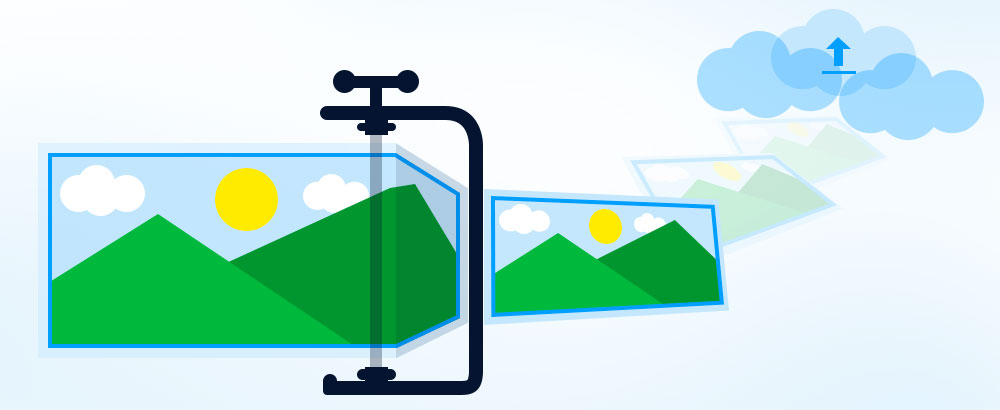 LogiNext's image compression algorithm, with dynamic blur removal and edge detection mechanisms, offered high-quality images at less than quarter the size. Delivery associates could send all visual proof of deliveries without worrying about the battery life or available internet bandwidth. Smaller images take lesser storage space and are processed faster by even an average smartphone of 1 GB RAM. Moreover, the smaller images were transferred faster with less data usage. Hence, even 2G bandwidth could serve the purpose of all online logistics management processes. Delivery associates could avoid battery drainage due to the usage of 3G-4G networks over a day's work. Using 2G bandwidth for image transfer saved battery for longer smartphone usage.
Sign up to use this proprietary image compression.
Prolonged battery life and minimal data usage ensured continual delivery movement and location tracking and helped in keeping the overhead costs down. Even the cloud storage of millions of 'verification images' collected at the client's end could be dealt with much lesser space without a need to upgrade to costlier cloud storage. Read more about Image Compression and it's benefits here.
iOS Design Update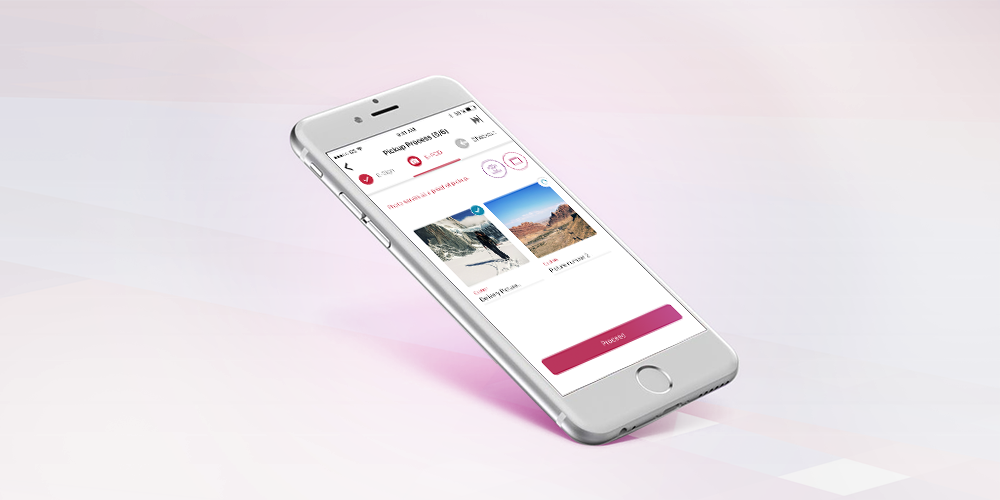 LogiNext's iOS application went through a design update post the launch of iOS 10. Along with the design update, the major focus was on improving the usability of the application. With multiple process improvements, the resultant update saw the overall usage and adoption rate amongst delivery associates increase by more than 55%.
Technology is always as good as its actual ground-level application. The iOS update of LogiNext's update created a streamlined and easy-to-use process flow for the delivery associates. This ease of use ensured that all information (such as customer requests or feedback) could be captured easily and accurately. All this information made way for more structured planning and analytics. The iOS update was a big step in making technology accessible to even those who are not tech savvy.
Sign up to experience its efficiency and ease-of-use.
Post the update on the iOS and the Android front, the downtime (instances of app crashes) became as low as 0%. This means that the application was active and available, recording tracking information, delivery proofs, and feedback, at all times.
Offline Sync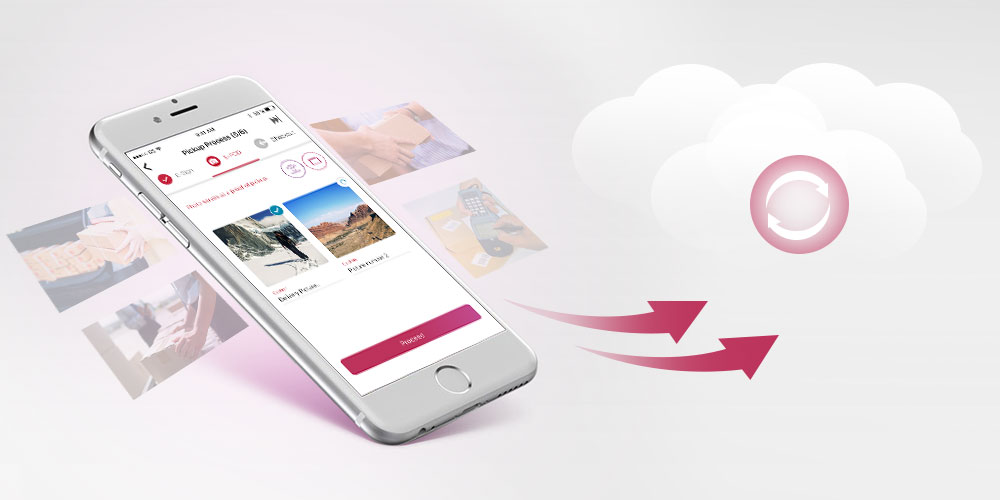 Another important upgrade covered a very important issue regarding the offline syncing of information. The application could now track the location of the delivery associate, vehicle, or field agent even in the absence of a network. The GPS location tracking was stored within the device. Even the delivery proofs recorded while being offline were recorded and processed within the device. The instant the network was reestablished, the data was synced with the cloud and reported back to the manager.
Sign up to utilize the benefits of offline syncing of all tracking and delivery information.
There are many territories which have network issues, especially distribution hubs. Even instances of weak network strength sometimes create a problem in online syncing of information. The Offline Sync functionality ensured that no information was lost due to lack of network or connectivity. This feature, along with the Image Compression technology previously mentioned, effectively made it possible and feasible for delivery associates to perform their all their tasks, use the application with all its features, track and report all movement information and delivery proofs, all while using simple 2G networks.
Tech evolution must always be around a purpose. The purpose of the upgrades mentioned here, and many more that are regularly communicated to the clients through mailers, is singular. To optimize resource movement with a view to reduce operations costs and improve overall process efficiency.
194
1