You've got visibility, now let's get the remaining transformation completed
Today's world is highly connected and goods are in constant motion around the clock through various modes of transport. There is movement from factory to the warehouse, from warehouse to distribution centers, from store to the end customer, return orders going back from the customer to sortation centers and so much more! Logistics is complicated and it takes a lot of elements to work in sync for an item to reach from point A to point B. Having visibility over logistics operations is crucial but there's so much more to an end-to-end logistics automation software.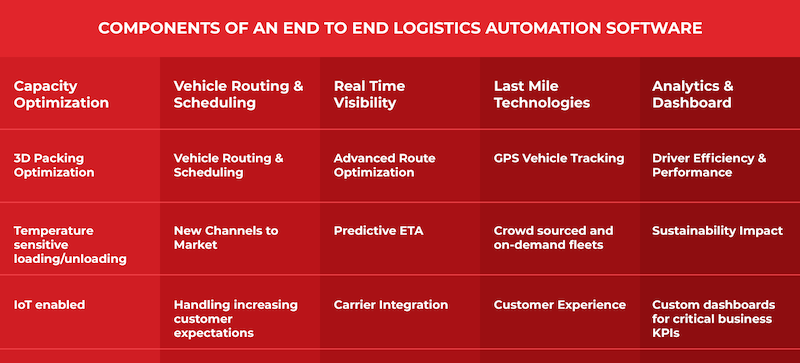 In a survey we conducted with more than 200+ enterprises across the globe, we asked companies about elements of logistics digitization they've adopted and what is their top priority to implement next.  Little surprise here then that Real-time visibility adoption is already very high and the focus now is shifting towards optimizing Last Mile and Vehicle Routing & Scheduling.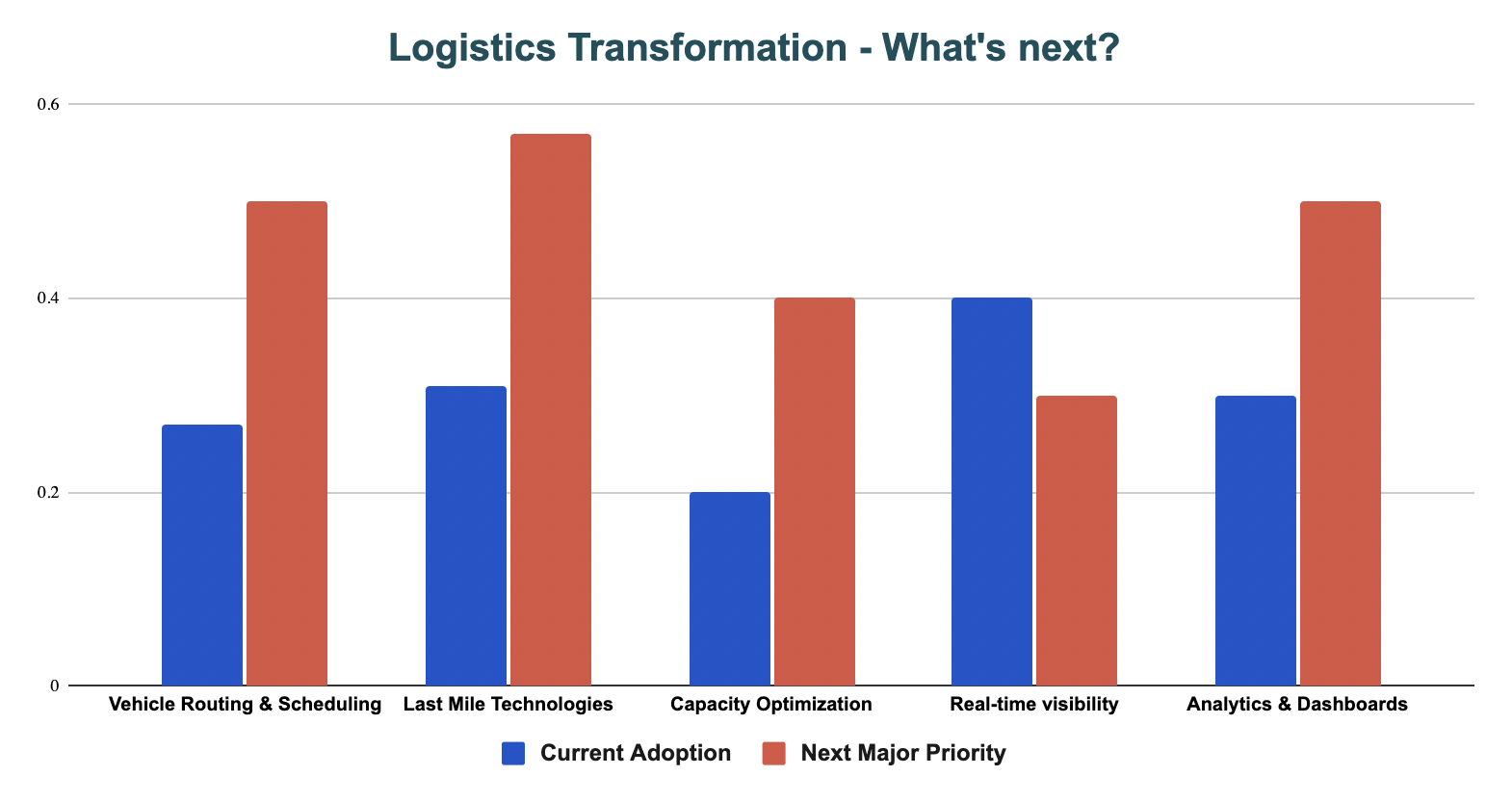 Also read: Why is Last Mile the most expensive?
Going Beyond Visibility
Let's look at the various elements a complete logistics software has to account for from the lens of an order's lifecycle. 
Firstly, before digitization and visibility of operations, it is essential to streamline operations even before an end customer places an order. Be it a B2B or a B2C customer, the expectation is to have a great experience while placing an order till the time it is received. And in the modern context, there are multiple channels from which an order can be received. It can be your website, your app, 3rd party aggregators, and so on.  
A complete logistics software has the capability to take in these orders and then automatically allocate them to drivers on the basis of constraints you set – be it optimization for delivery costs or optimization for speed of delivery or any other KPI you track. The order allocation is done through advanced route optimization algorithms.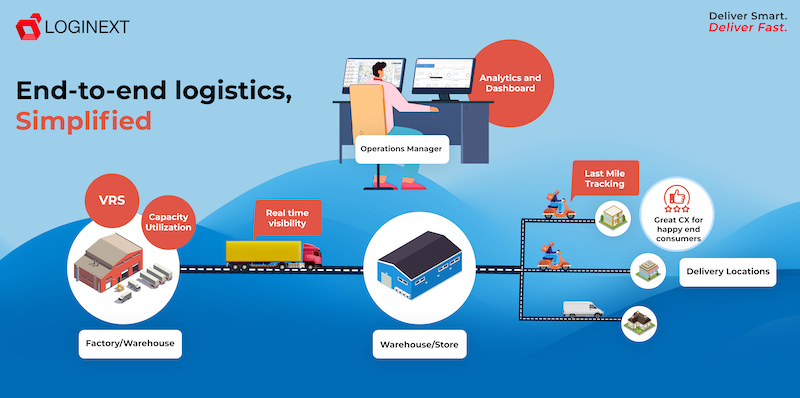 The second stage when the order is shipped to the customer can be a multi day trip across oceans or it can be a short peer-to-peer trip across buildings in a locality! This is where real time visibility comes into play and this itself is an enormous arena where a platform needs to take into account parameters like docking rules and yard management, weather conditions, transportation rules in different geographies including labor laws and such. A real time visibility platform gives visibility into all of these elements throughout the supply chain. 
According to Gartner, 
By 2023, 50% of global product-centric enterprises will have invested in real-time transportation visibility platforms.
The third leg can be considered as the 'customer excellence' leg. This is where you analyze the delivery performance, take in feedback, and accordingly, plan the next line of action. The reporting module gives in depth insights into driver efficiency, number of orders delivered in time, efficiency gain, sustainability impact and such. Across the entire chain, finance and cash compliance is a common thread that has to be accounted for. Easy carrier invoicing, driver payments and cash compliance are some of the areas within the finance module that a complete logistics software accounts for.  
Also read: LogiNext Is A Representative Vendor In Gartner's Market Guide For Vehicle Routing And Scheduling And Last-Mile Technologies
Industry Wide Applications of an end-to-end Logistics Software
A transportation automation platform not only gives organizations a complete view of logistics operations but has added capabilities through which actions can be taken. This platform allows brands to digitize, optimize and automate operations to increase efficiency, reduce overall costs and provide a superior customer experience. A platform like LogiNext has applications across industries: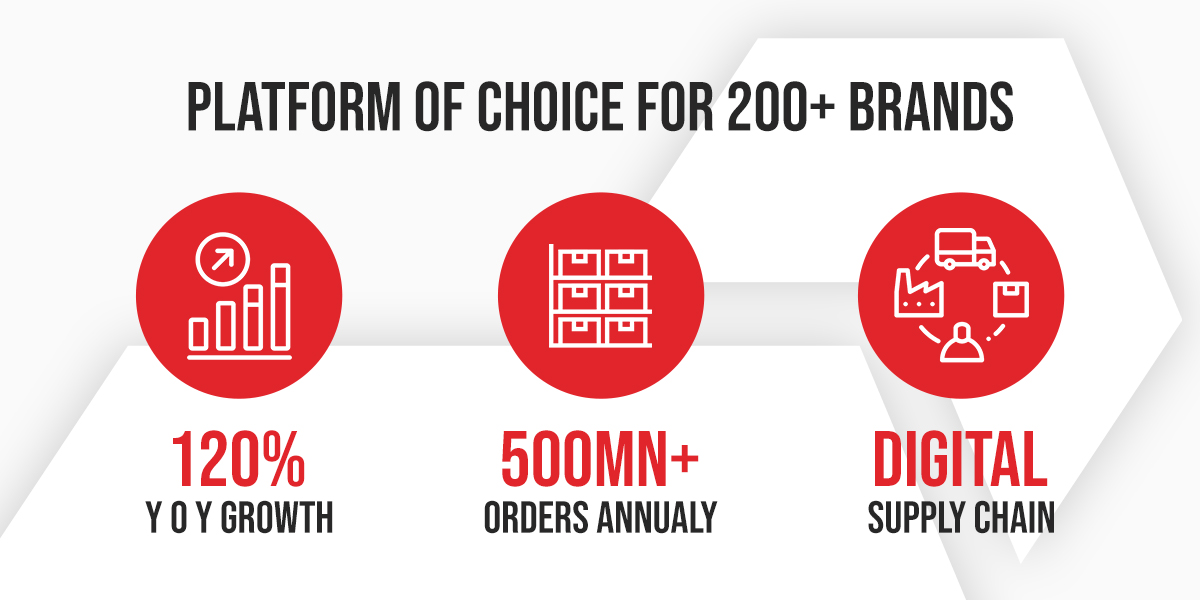 Food & Beverage: Be it home delivery of food, beverages, or groceries, customers are expecting faster deliveries with real time tracking. With a transportation automation platform, an operations manager has a complete view over logistics and can make informed decisions to deliver a great customer experience.
Consumer Packaged Goods: Consumer behavior is rapidly shifting. Labor shortage, climate change, and trade regulations pose challenges in several new ways. Any CPG brand needs to be aware of all these developments and adopt technology that can help them tide over the challenges. A comprehensive platform like Loginext lets brands forecast demand, automate order management and allocation, and reduce delivery costs by optimization along with reducing the carbon footprint.
Courier, Express, and Parcel: Next day delivery and same day delivery have become drastically important along with delivering a great customer experience. Express deliveries, white glove delivery services, curbside pickup, middle mile logistics, last mile routing, and comprehensive supply chain visibility are some of the capabilities that your platform needs to have.
Retail & eCommerce: Retail brands and eCommerce companies have to be on their toes to stay ahead of the latest consumer trends. Quick commerce, social media commerce, and the entire digital landscape have changed the face of how products are ordered and delivered. Through LogiNext, brands can manage orders, integrate carriers, automate deliveries, and have complete visibility.
Transportation & Logistics: The world of transportation and logistics is shifting at breakneck speed. Technology is an enabler and real time visibility over shipments is the need of the hour to ensure smooth delivery management. LogiNext's SaaS platform has features like 3D packing optimization, capacity utilization, trip planning, and scheduling enabling a more efficient supply chain.
LogiNext's end-to-end platform is used by 200+ enterprises across the above mentioned sectors in 50+ countries and is highly rated by customers.
Features that propel growth for you
An end-to-end logistics automation platform helps enterprises cut down on delivery costs, simplify logistics and deliver a great customer experience. This is enabled through various features applicable to an array of use cases. 
Predictive ETAs and real time tracking: Traditionally ETAs used to be milestones based and this often led to operation managers and customers being in the dark. Real time tracking updates ETAs at a specific interval of a few minutes and going a step further, predictive ETAs let businesses and customers have an idea of ETA before placing an order or transacting. Historical data on loading/unloading times, estimating service or preparation times, and other such parameters help a transportation automation platform like LogiNext give accurate and predictive ETAs. 
Carrier Integration Marketplace: The depth and quality of a platform's carrier network is critical. LogiNext's extensive API integrations let an enterprise connect with carriers at the click of a button. Be it fast food restaurant chains, CEP (Courier, Express, and Parcel), retail and eCommerce, or Transportation, LogiNext's carrier integration marketplace enables brands to move fast and have a wide array of options to fulfill orders. 
Capacity Utilization: Apart from visibility, it is important for a platform to optimize and automate operations. Features like 3D packing optimization, estimating detention times, accounting for temperature sensitivity, and such allow shippers to utilize capacity and improve efficiency along with reducing costs. 
Dashboard and Advanced Analytics: Visibility over operations also means detailed analytics of the entire order lifecycle. Right from average order delivery times to number of delayed orders in a particular time window to the best performing delivery drivers, a single dashboard with the capability to give analytical insights is a critical component of a logistics automation platform. 
Do these features and benefits sound like something you'd like to try out?
56