Cheat Sheet for delivery companies to provide a great customer experience (CX)
– Article by Naveen Kumar, AVP- Product Management at LogiNext
For building loyalty and trust, Customer Experience is the Key
In today's world, customers expect immediate, transparent, and accurate product delivery. Your Transport Management System helps you with route planning and route optimization but customer experience is the key to building loyalty and trust. With the right technology solutions in place, you can communicate more efficiently and effectively with your customers and develop a relationship that can help retain them. 
7 in 10 U.S. consumers say they've spent more money to do business with a company that delivers great customer experience. 
So what is a great customer experience when it comes to parcel delivery and logistics management? Let's say a customer places an order of Barbeque from an eCommerce website for a party on the weekend. You do not want your customer to have delivery anxiety or let them worry about how to set up the product. You want them to think about how they are going to enjoy their party. 
Delivery Management forms a core function for any brand and the importance of customer experience is at the forefront. The first thing brands need to do is to include CX as one of the key parameters to gauge the success of their supply chain operations. 
Customer Experience starts even before a person thinks of placing an Order
One of the most common assumptions is that the customer experience journey begins when the order has been placed by the customer. But that is not the case. The customer starts interacting with the logistics provider even before placing the order. Let's understand in detail the touchpoints with customers and how these are critical to customer delight.
Pre Purchase Customer Experience 
Even before the order is placed, the customers' expectation is to see possible delivery slots. You can always suggest the best possible slot but the flexibility should be with customers to choose the slot which they want. 
If you are in a business where you cannot show all possible delivery slots, you will need to give accurate predictive ETA (expected time of arrival) for the order. Most of the time the predictive ETA plays an important role in the customer's decision to go through with the order or not. ETA's become more prevalent in On Demand deliveries. A delivery tracking system with predictive ETA and slot management ability is needed to achieve a good pre-purchase experience. 
Post Purchase Customer Experience 
It is very common for a customer to feel anxious about where their order is in the delivery lifecycle. You can solve this WIMO (Where is my Order) problem by 
staying in constant touch with customers

making them feel important 

sometimes over-communicating that their order is on the highest priority. 
Order Tracking
"97% of customers expect the ability to check their orders at every step of the delivery process."
Your customers want to have everything related to their order in place and want the ability to track their order throughout the delivery process. An order tracking page serves this purpose efficiently. 
Your order tracking page should clearly state the current status of order, have real time tracking on map and show accurate ETA.  Having an order tracking page imbibes a thought in customers that your business is transparent, dependable, and trustworthy which helps in retention. 
Alerts
It's not always the case where your customers will seek out your order tracking page to check their order status.  So, you need to reach out to customers via real time alerts which gives visibility and transparency. The alerts should be sent to a customer's preferred mode – SMS, Email, Whatsapp or any other convenient mode of communication
Flexibility 
Brands have to become more open in accommodating requests from customers during the delivery process. The companies should be open to accepting requests like – 
reschedule the order because of the customer's unavailability or to drop the order at the security of their society instead of giving it to them. 
Presence of the Human element
Making every interaction count, even the small ones. They are all relevant!
Customers always want to speak to a human and it's important to keep that human element alive. To improve efficiency and reduce the cost, you can have chatbots that do most of the heavy lifting but designing the automated system in a humane way with a possibility to speak to a human at the end is a win-win for everyone. 
No-Hassle Returns Process
Streamlining the reverse logistics process is another key element to customer experience. Your customers expect a smooth and hassle-free return process and this is what Logistics companies need to provide. The customer expectations of transparency and visibility remain the same in reverse logistics as well.
Turn bad delivery management experience into a good customer experience
We all know that on-time delivery depends on a lot of factors and some of the factors (e.g. weather) are out of a Logistics companies hand. So we can run into scenarios where logistics companies overshoot the delivery commitments. In this case, we need to communicate to our customers that we really care about them. Even a small sorry message goes a long way in maintaining a relationship with the customer. 
How LogiNext can help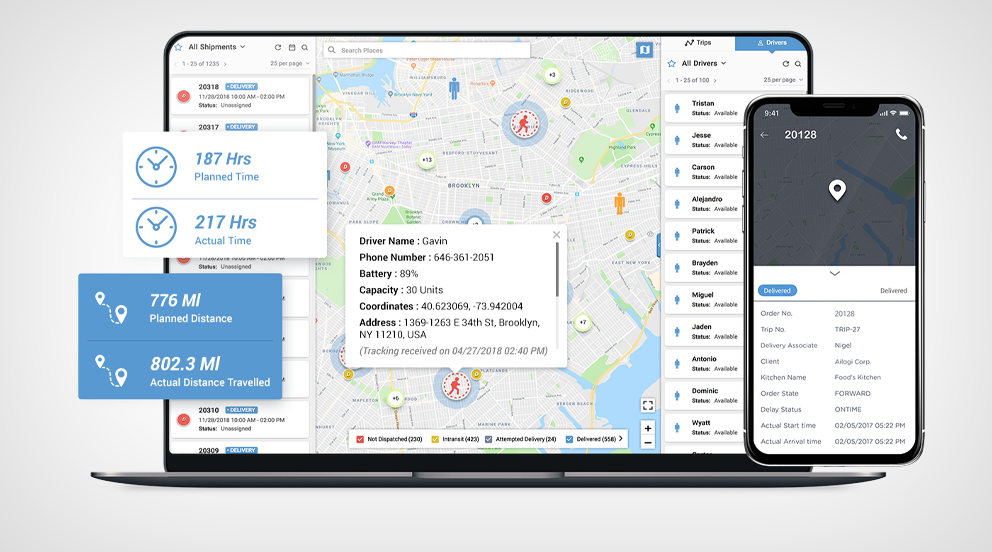 The LogiNext Mile platform comes with a plethora of features covering the capabilities needed to provide a delightful customer experience. In addition to the much-needed capabilities, we let you brand your communication and share promotions, product recommendations, etc to improve brand awareness and loyalty. 
To build customer experience as your key differentiator, reach out to us. 
Our highly configurable enterprise logistics management software solutions are designed to serve all client needs using smart technology and big data analytics enabling comprehensive field service management. LogiNext's Mile™is automated, effective, secure and can be seamlessly integrated with multiple platforms providing complete logistics automation.
66